November 27, 2017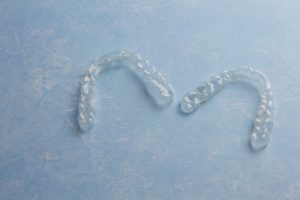 According to recent data, adults make up about a quarter of all orthodontics patients in the U.S. and Canada. This means more adults are chasing after their ideal smile regardless of their age. Thanks to clear aligner technology making waves in the dental industry, having a straight smile is no longer a pipe dream.
With companies like Invisalign offering teeth-straightening treatments alternative to braces, people of most ages can get the smile they always wanted. Consider starting 2018 with a new smile and learn the process from your dentist in Downtown Boston inside.
 What is Invisalign?
Invisalign is a clear aligning treatment created in 1997 by Align Technology. The aligners are designed to incrementally straighten your teeth over a long period of time. Invisalign treatment is ideal for those with mild to medium teeth crowding in the mouth.
Clear aligners are typically cheaper than getting full-fledged braces and are ideal for adults seeking to realign crooked or crowding teeth.
How Does Invisalign Work?
To start, your dentist will take impressions of your current mouth using a mold made of putty. This is then sent to a manufacturer who creates a plastic aligner of your current teeth as well a series of new aligners you'll transition to. Each of these are closer and closer to the final straight form your teeth will take on.
The patient must wear each aligner as directed by their dentist. This is typically 2 weeks at a time for each aligner and accompanied by additional checkups from your dentist. This is to ensure your mouth is straightening properly over the course of the treatment.
Why Clear Aligners vs. Traditional Braces?
There are many benefits to starting the new year with clear aligners rather than traditional braces. Since Invisalign can take 6-18 months to complete, you can look back exactly one year later to see how far you've come on your Invisalign journey. With regular wear, you may even finish the treatment exactly one year from when you started. If you made straight teeth part of your new year's resolution, you'll gain the pride of meeting that goal.
When pursuing clear aligners, consider the benefits compared to braces:
A more natural appearance that blends in with your smile
Clear aligners are removeable, meaning you can still eat your favorite foods without worry
No metal wires poking into your teeth or gums
Shorter treatment compared to braces which can take several years
Don't hesitate to learn more about Invisalign in Downtown Boston. Call your local dentist today to schedule an appointment!
About the Author
Dr. Dean Levy DMD earned his Bachelor of Science from Villanova University and eventually went on to become a Special Education teacher in Newton Public Schools. After realizing his passion to become a dentist, he went on to earn his Doctorate of Dental Medicine from the Boston University School of Dental Medicine. He has since completed hundreds of hours of continuing education and is a certified Invisalign provider. To learn more about this practice and clear aligning treatments, visit his website or contact him at (617) 350-7474.
Comments Off

on Your Dentist in Downtown Boston Wants to Straighten Your Smile
No Comments
No comments yet.
RSS feed for comments on this post.
Sorry, the comment form is closed at this time.